Please note: This section of our website is under construction.
We are continually working to add more detailed information about our department's history.
If you have any information or photos that may be helpful in our research, please contact info@nlvfd.com.
The Early Years
North Lenoir Volunteer Fire Department was founded on February 2, 1965. The driving force behind the formation of NLVFD was the late Winston Wheeler. In late December of 1964, a kitchen fire ravaged Wheeler's home. At that time, fire protection for the county was provided by the City of Kinston with one truck, a 500-gallon pumper purchased in the 1950s. Unit name? Lenoir County Fire Engine No. 1?
A few days after the house fire, Wheeler contacted his good friend George Smith, Jr. about the possibility of creating a fire department for the northern part of Lenoir County, and together they organized a meeting of several local farmers, businessmen, and neighbors to discuss the idea. The group was known collectively as "The Hullwood Gang" and they met at a barn owned by Floyd Gray, Jr. (the location currently houses Elite Welding). As a result of that meeting, North Lenoir Fire Protection Association, Inc. was formed on January 30, 1965 as a nonprofit corporation charged with managing a volunteer fire department for the district.
The original board members were Winston S. Wheeler, Walter Pippin, Harold L. Dail, C. E. Edwards and Carol E. Sumrell.
George Smith, Jr., who was only 23 at the time, was elected as the first Fire Chief of NLVFD and went on to serve as Chief for 20 years. Winston Wheeler served as the President.
The department purchased a 1942 Chevrolet Army surplus pumper from Blackman's Crossroads Volunteer Fire Department at a cost of $800 as its first fire truck. Shortly after, C. Felix Harvey donated a 1955 gas truck to the department that was used as a 1,000-gallon tanker.
With 40 men on the roster, the pumper and tanker, the department fought its first blaze, a tobacco barn fire, in February of 1965. For several years, the volunteers worked out of a tin building (the wash-pit of G.J. Smith & Sons Store) on Highway 258 North while they sponsored barbecues, sold peanuts, held wrestling matches, and hosted auctions to fund the construction of a fire department. During the first year, the department responded to approximately 100 incidents.
Sometime later, the idea to build a fire station was presented to George Smith, Sr. who had land available across from his store on Hwy 258 N – a center of socialization for local folks. Mr. Smith agreed to give the land to the fire department as long as it remained a fire station. This station is still in operation today and houses two engines, a tanker, and a Lenoir County medic unit.
In 1967, the county added LC-3 as an automatic mutual aid truck for all county fire calls. LC-3 was a 1967 International Harvester Chassis, American LaFrance 6 cylinder gas engine with a 1000 GPM pump and 750-gallon tank. The engine was owned by Lenoir County, who contracted with the City of Kinston to staff it. Normally, two firefighters, one being a Lieutenant, responded LC-3 to all county fire calls. The unit was housed at Kinston Station 3 on Vernon Avenue across from Vernon Park Mall. Prior to being named LC-3, the unit was known as Engine 6. LC-3 was later donated to Hugo VFD by the County Commissioners when the city stopped covering county alarms, circa 1985.
In 1968, the first bricks were laid for the fire station by firemen Charles Sutton, Ben Dail and Robert Rouse, Sr. All of the fire department members assisted with building the station. Initially, the building consisted of three bays with only a dirt floor and a hand sink. Later, a concrete floor was poured by Dick Everette.
From 1965-1980, there was no county fire tax. Every penny needed to operate the fire department had to be raised by members and their families through selling barbecue plates, hosting turkey shoots and auctions, holding wrestling matches, and even hosting country music concerts. The department members worked with J.B. Ham and WRNS radio to bring Dolly Parton, Porter Wagoner, Hank Snow, Little Jimmy Dickens, Crystal Gale, Jerry Clower, and others to Kinston.
Members of the department would purchase fuel to fill up the trucks with money from their own pockets. and they had to buy their own turnout gear.
In the early years, the fire department could not even afford to have the name painted on the building. The Pepsi Company agreed to sponsor the sign which would include the Pepsi logo on each side. The department is now funded by a nominal fire tax, approved by the County Commissioners in 1980.
---
Charter Members of NLVFD:
Winston Wheeler
Dee B. Smith
Robert Merritt
Ray Smith
George Everett
Henry Everett
Charles Sutton
Bobby Rouse
Kenan Hart
Paul McKeel
George Smith, Jr.
Dick Everette
Emmett Lassiter
Stanford (Shorty) Hill
J.B. Dawson
Dee Barrow
Johnny Smith
---
Did You Know?
The first call ever answered by the department was a tobacco barn fire on the Joyner Farm. Johnny Smith and Henry Everett responded. With only a 3/4″ booster reel to work with, the barn burned to the ground but an effort was made.
In the 1970s, the county added a mutual aid tanker. LC Tanker 1 was a 1973 Ford Howe 300 GPM/1250 gallon tanker that ran with LC-3 to all county fire calls up until 1985. This unit was also based at Kinston Station 3 and was manned by 2 firefighters per shift. Tanker 1 was later given to Hugo VFD by the County Commissioners when the city stopped covering county alarms.
In 1975, the back meeting room was added by C.B. Cauley, who also constructed the A-frame that remains on the building today. A fourth bay was added in 1978.
Several BBQ sales were held to raise money for construction and additions to the original building. It was well known that Mr. Wheeler would charge $100 per plate to certain patrons in order to raise money for the building!
Over the ensuing years, the original building has been expanded twice to provide meeting facilities and additional housing for apparatus.
Before radios were available, The Kinston Fire Department would call George Smith, Jr., the Fire Chief at the time, at home and then his wife would relay the calls to other firemen and their wives through a phone tree. Phone lines had been installed in both Chief Smith and Assistant Chief L.D. Barrow's homes.
Did You Know?
In the 1970s, the station had old, heavy, wooden doors. When the siren would blow, Danny Smith Sr., Jimmy Hill and George Smith, III would run across the street and open the doors while Henry Everett, George Smith, Jr., Dee Barrow, and other firemen would get into the trucks to respond to the call.
A Second Station
In 1987, the department broke ground for an additional station located on Fred Everett Road, two miles north of the original building. The land (approximately 2.5 acres) was purchased from Polly Everett and Bela Stocks. The second station included 4 bays, a meeting room, a day room, a kitchen, and office space.
Due to growth in the district, three additional bays and office space were added in 2004. And in 2007, living quarters were added to the upstairs area. Due to adequate meeting space and availability of adjacent land for growth, this station became the hub of all fire department activities in the late 1990s and was renamed Station 1. The original station on Hwy 258 North was renamed Station 2.
Over the years, this site has been expanded to more than 7 acres through land acquisition purchases and is now home to the department's training facility. A new roof and new glass doors were added in August of 2014.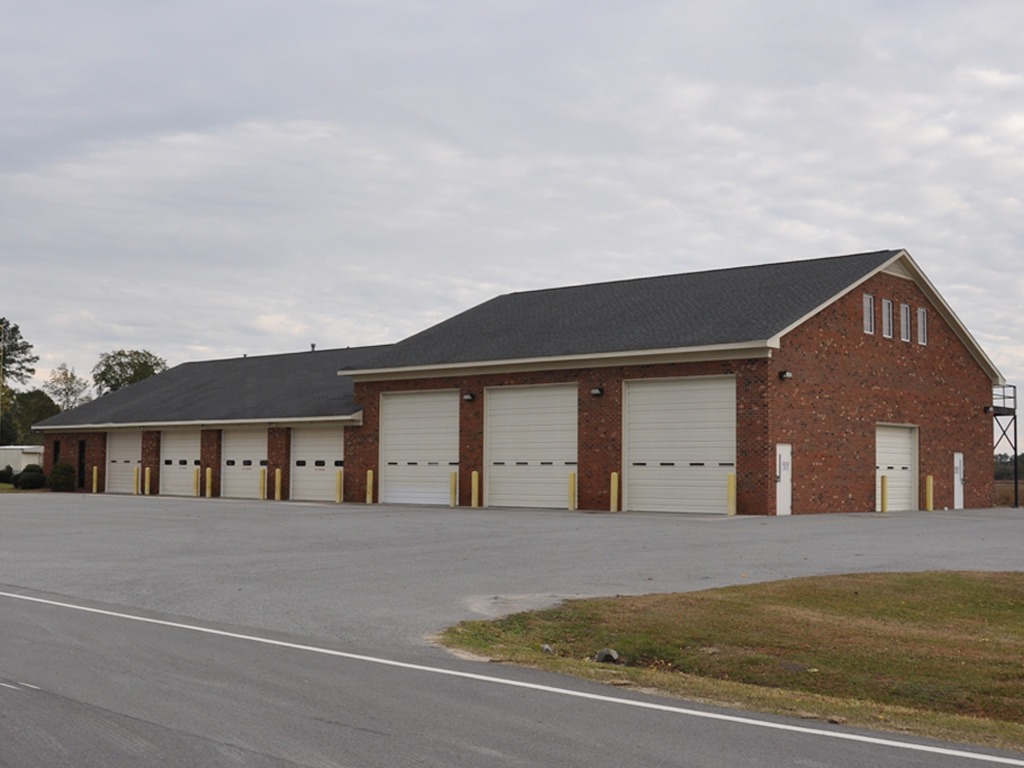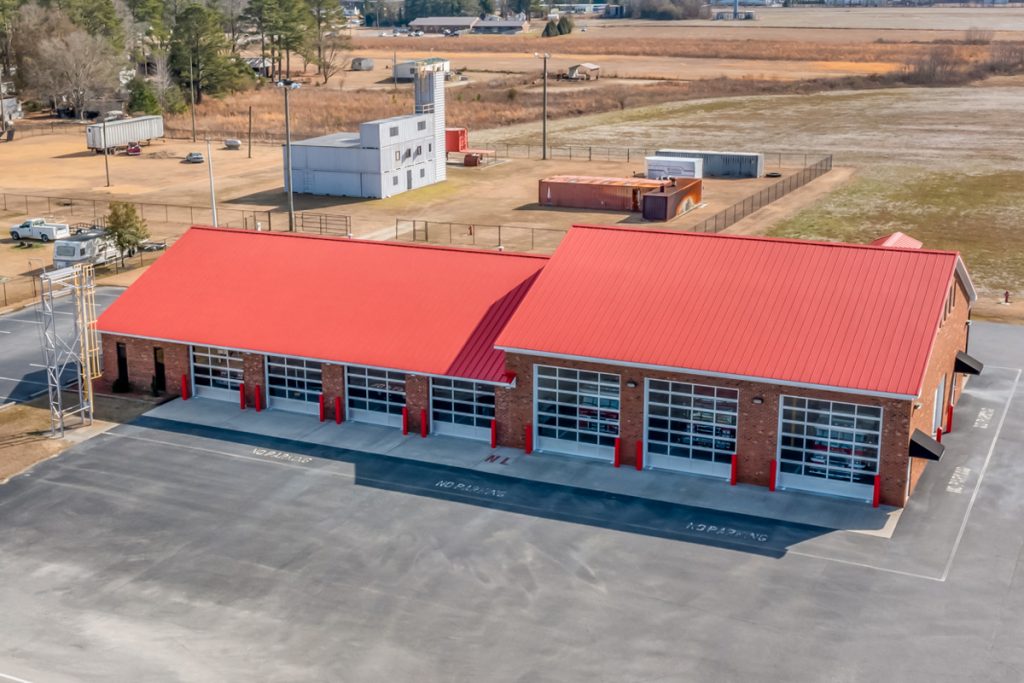 And Another Station
In an effort to better serve the community, the department purchased land and began construction of a third fire station situated on 1.5 acres on Kennedy Home Road in August 2006. The station opened on September 4, 2007 and answered its' first call the same day.
The station was built with 3 apparatus bays and a day room. A few years later, sleeping quarters and a kitchen were added.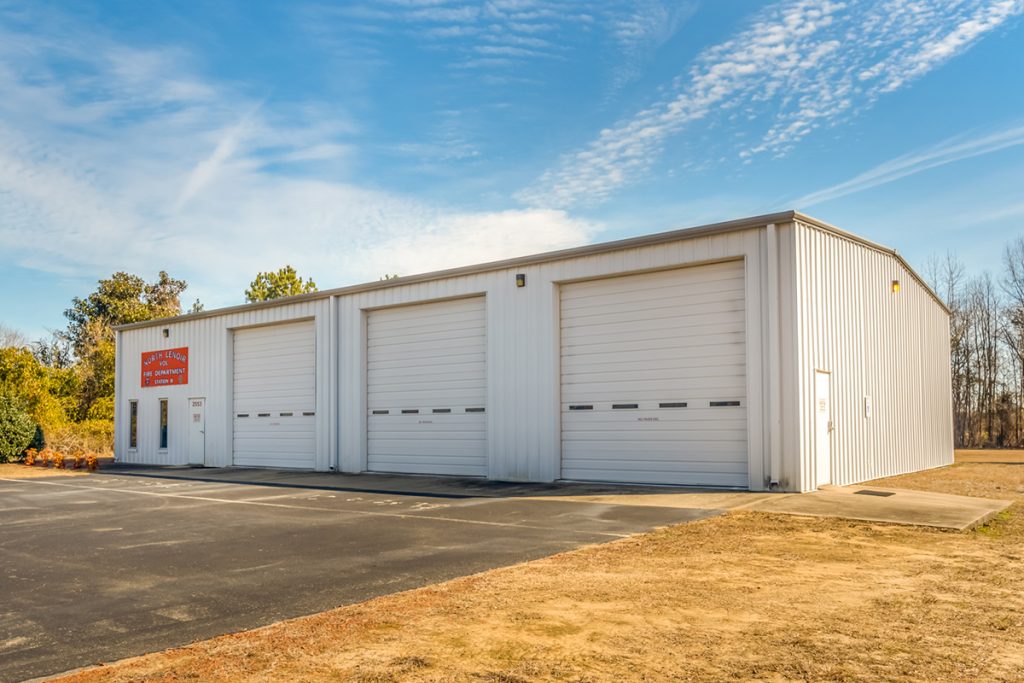 The Chiefs
George Smith, Jr. served as Chief of the department for the first 20 years of its existence. In 1985, he retired and was succeeded by George Everett, an Assistant Chief for much of Smith's term. Russell Deats took office in 1987 and served in the position until 1998, followed by Joe Gates, Sr. from 1998 to 2000. From 2000 to 2004, Deral Raynor served as Chief, followed by Danny Smith, Sr. from 2004 to 2006, and Lynn Everett from 2006 to 2010. Brian Wade has been serving since 2010 to the present.
1990s Apparatus
A Pierce Lance Engine with a 1500 GPM pump was purchased in 1991. This truck is still in operation today at Station 3 and is affectionately known as "The Hog."
In 1994, the department purchased a GMC Topkick E-One Rescue.
In 1998, a Pierce Saber was purchased to operate as Engine 2.
In 1999, the department purchased a Ford F550 to operate as Squad 2. This truck was later upgraded and renamed Squad 1.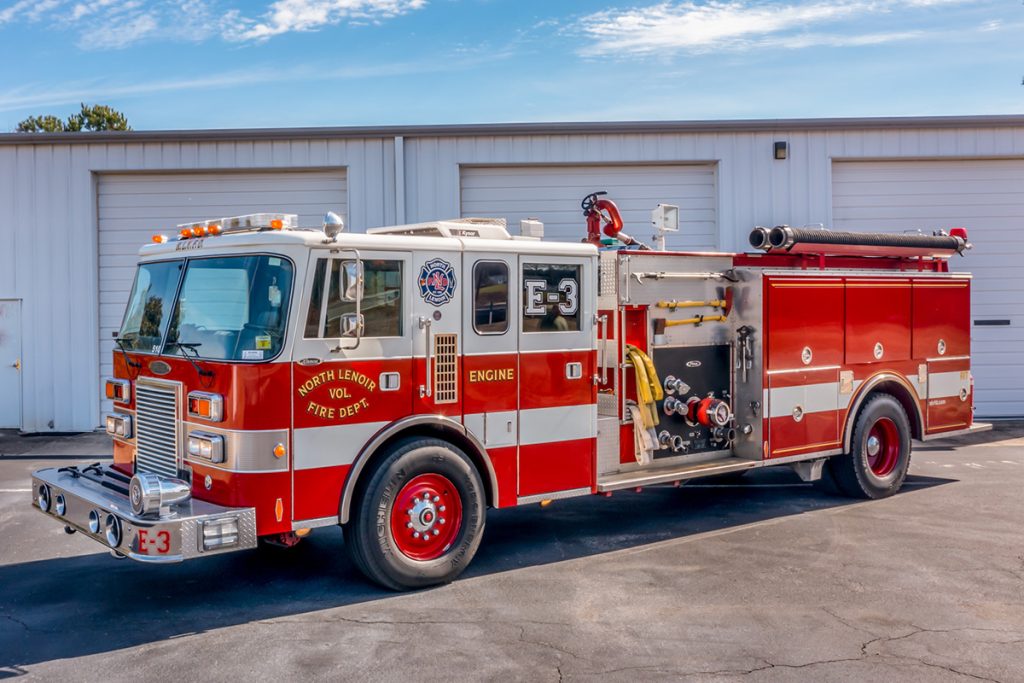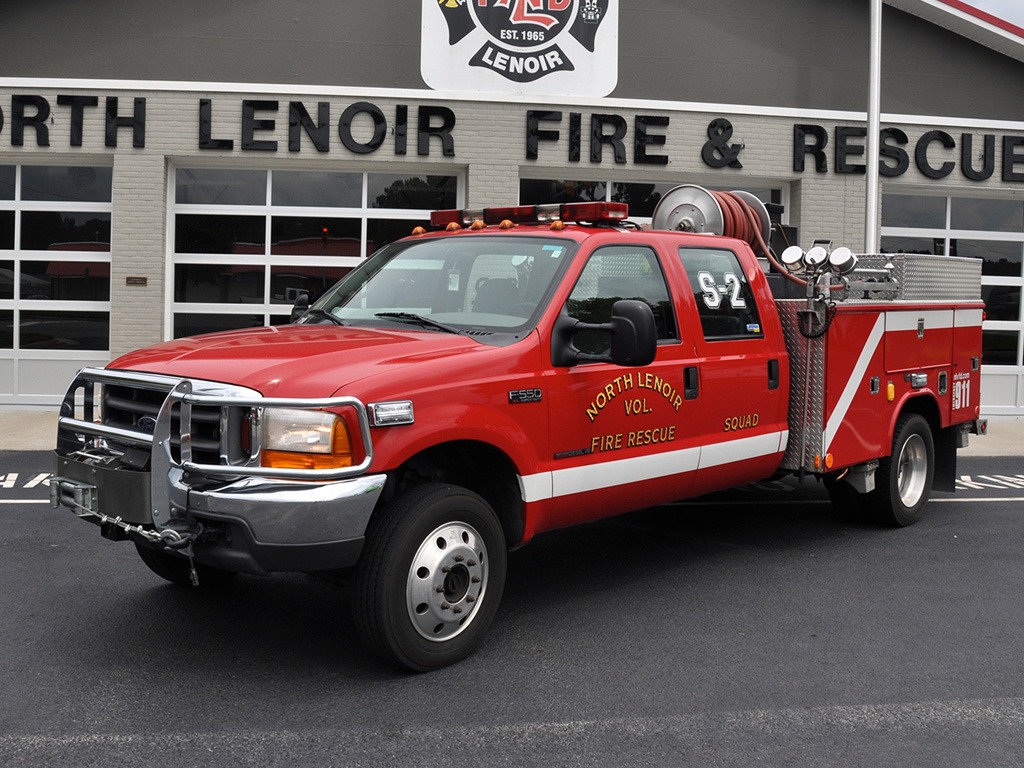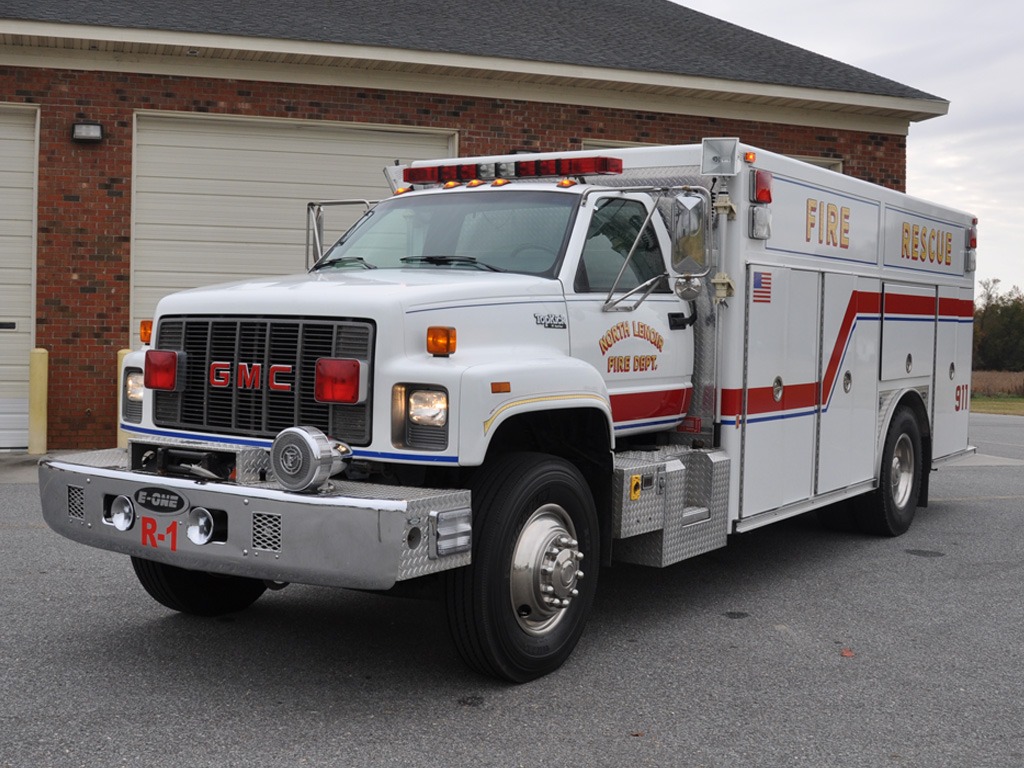 2000s Apparatus
A 16 ft rescue boat was acquired in 2000.
A Pierce Saber Tanker was purchased in 2004.
In 2005, a used Chevrolet Suburban was purchased and placed into service as Squad 1 and operated as a QRV for increasing demand in EMS and medical calls.
In 2006, a 1999 Pierce Dash was purchased in anticipation of the opening of Station 3.
A 1993 Pierce Lance with a 1500GPM pump/1000 gallon tank was purchased from Eggertsville Hose Co. in Eggertsville, NY around 2009. This unit was later sold to Hookerton Volunteer Fire Department in North Carolina in 2019.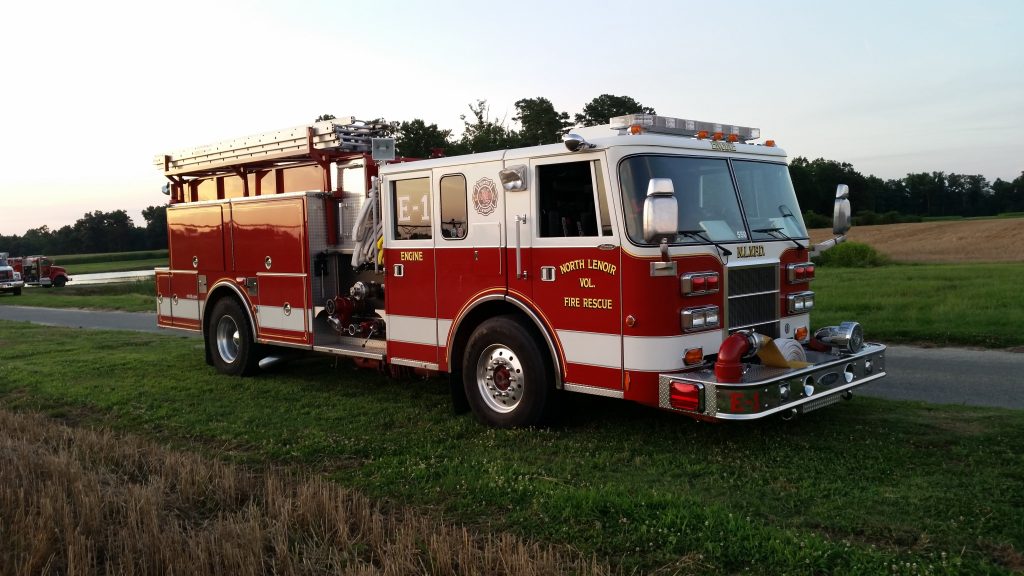 Insurance Rating Improvements
The department now operates 12 front-line trucks out of three stations, protecting a six-mile district and approximately 8,600 residents. In addition, two major industrial parks containing more than 20 manufacturing facilities lie within the district.
Extrication capabilities were added in 1992 with the purchase of a Jaws of Life. We currently operate three sets of extrication tools, with one set running out of each station. As demand grew, a first responder agreement was initiated to supplement county-provided EMS protection throughout the district. Through the addition of apparatus and equipment such as 5″ diameter hose, the department was the first one in the county outside of a municipality to improve its rating to a 6/9A. The department went on to lower its ISO rating a 5/9S in the 1990s.
In July of 2020, NLFR once again improved its insurance rating from 5/9E to a 3/9E after a routine inspection from the Office of State Fire Marshal.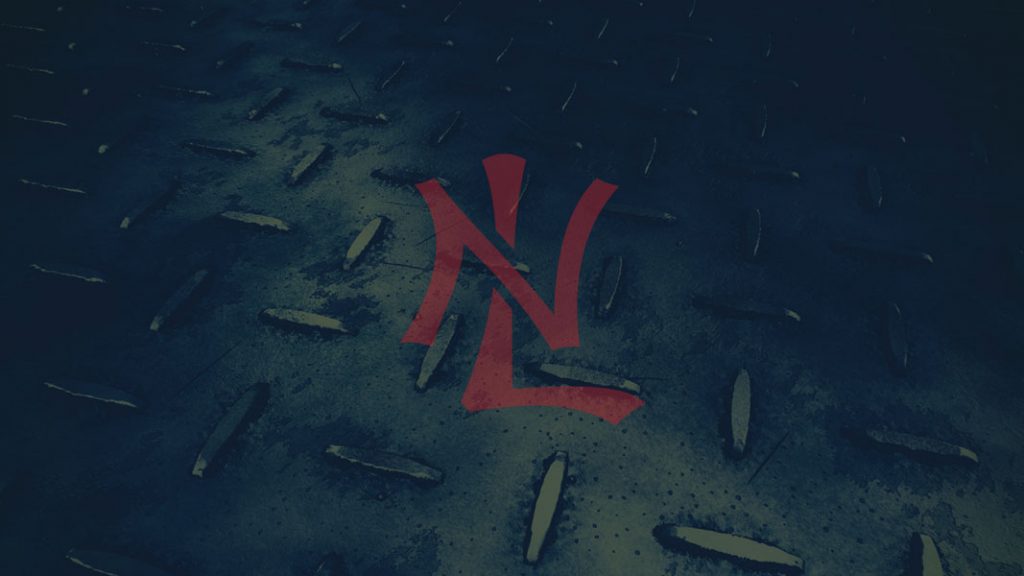 2010s Apparatus
In January of 2014, the department added two new trucks to its fleet – a 2013 Pierce Commercial Cab 1,000 gallon/1,500GPM pumper-tanker, and a 2013 Pierce Commercial Cab 2,100 gallon/500 GPM tanker.
The new trucks were purchased from Atlantic Emergency Solutions and replaced aging equipment – a 1998 Pierce Custom Cab Pumper that was sold to Snow Hill Fire Department and a 1987 Pierce GMC Standard Cab Tanker.
Training & Facilities
In March of 2016, North Lenoir Fire & Rescue was the first all-volunteer department in the state to be granted Delivery Agency Status by the North Carolina Fire & Rescue Commission Certification Board.
As a Delivery Agency, North Lenoir Fire & Rescue was authorized to offer certification classes accredited by the North Carolina Fire & Rescue Commission to its' members and other local department personnel.
Deputy Chief Tyler Moore was instrumental in developing the department's delivery agency and served as the first School Director. Other members later serving as School Directors include Chris Decker and Steven Miller.
Chief Wade Named 2017 IAFC Volunteer Fire Chief of the Year
Chief Brian Wade was named the 2017 IAFC Volunteer Fire Chief of the Year by The International Association of Fire Chiefs (IAFC).
A committee appointed by the IAFC selected the award recipients, evaluating the nominees based on leadership, innovation, professional development, integrity and contributions to the fire service as a whole. Sponsored by Pierce Manufacturing, the awards were be presented on July 27, 2017 during FRI's general session at the Charlotte Convention Center in Charlotte, NC. The award ceremony was attended by Chief Wade and his wife, Jennifer Wade, along with several members of the department – NLFR PIO Chris Decker, Deputy Chief Tyler Moore, and Captain Brandon Ward.
In February of 2016, Brian Wade had been selected as the NC Volunteer Fire Chief of the Year by the NC Association of Fire Chiefs, and he was named the Volunteer Fire Chief of the Year by the Southeastern Association of Fire Chiefs in June. The Southeastern Association of Fire Chiefs is a division of the International Association of Fire Chiefs covering 10 states. The award was conceived to recognize truly outstanding Fire Chiefs whose actions and leadership in their profession, home, community and country, serve as an example and challenge for all other Chief fire executives throughout the southeast, and is the most prestigious honor the SEAFC can bestow upon a Chief officer.
Heavy Duty Rescue Purchased
In November 2017, the department took delivery of a new Heavy Duty Rescue truck built by Pierce Manufacturing. The new rig replaced an E-One Rescue that had been in service for more than 23 years.
The Pierce Enforcer Heavy Duty Rescue was purchased from Atlantic Emergency Solutions in November of 2015 and featured a Detroit DD13 Engine with 525 horsepower, TAK-4 Suspension, 25kW generator, 20.5' body, cascade system with fill station, a quad hydraulic rescue tool system, LED light tower, tripod lighting, air reels, electric reels, oil dry storage and much more.
The new Rescue provided the ability to carry all of the equipment required to certify as a Heavy Rescue Provider by the NC Association of Rescue and EMS and responds to several types of calls, including structure fires, vehicle accidents, rescue assignments, hazardous materials, and more. The new rig was expected to remain in service for more than 20 years.
A push-in ceremony was held on Monday, October 30, 2017 at NLFR Station 1. A push-in ceremony is a firefighter tradition to inaugurate a new apparatus, recalling the days before motorized fire apparatus when garaging a hand-drawn hose cart or a horse-drawn steam engine required a hands-on approach.
The push-in was attended by Brian Wade, Tyler Moore, Steven Miller, Aaron Kite, Chris Decker, Franklin Floyd, Randy Moore, Gray Wiley, Sam Youssef, Brad Ward, Lynn Wiley, Steve Parina, Mike Muskus, Trey Kornegay, Clay Dunn, Noah Yelverton, Jordan Manning, Danny Smith, Jr., Ryan Beasley and Josh Jarman.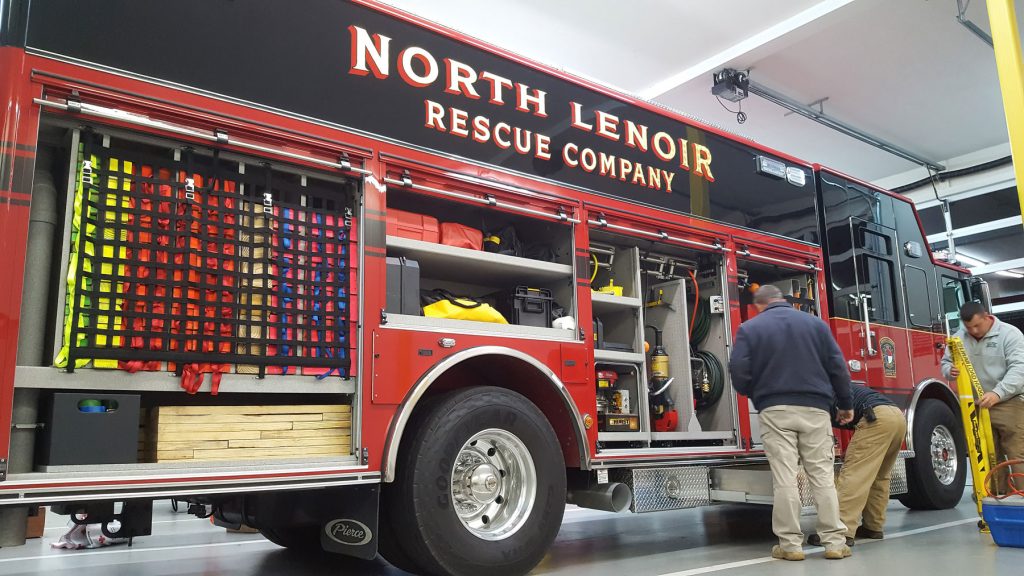 Technical Rescue Certifications
The NCAREMS certified North Lenoir Fire & Rescue as a Heavy Rescue, High Angle Rescue and Surface Water Rescue provider in early 2018. At the time, NLFR was one of only three Heavy Rescue certified departments and one of only two High Angle Rescue certified departments in the region. The department also became Agricultural Rescue certified in 2019.
The department and its members invested in significant equipment upgrades and thousands of hours of advanced training and planning to obtain the credentials.
In addition to the new certifications, a Rescue Team was also formed, comprised of members trained in various technical rescue disciplines.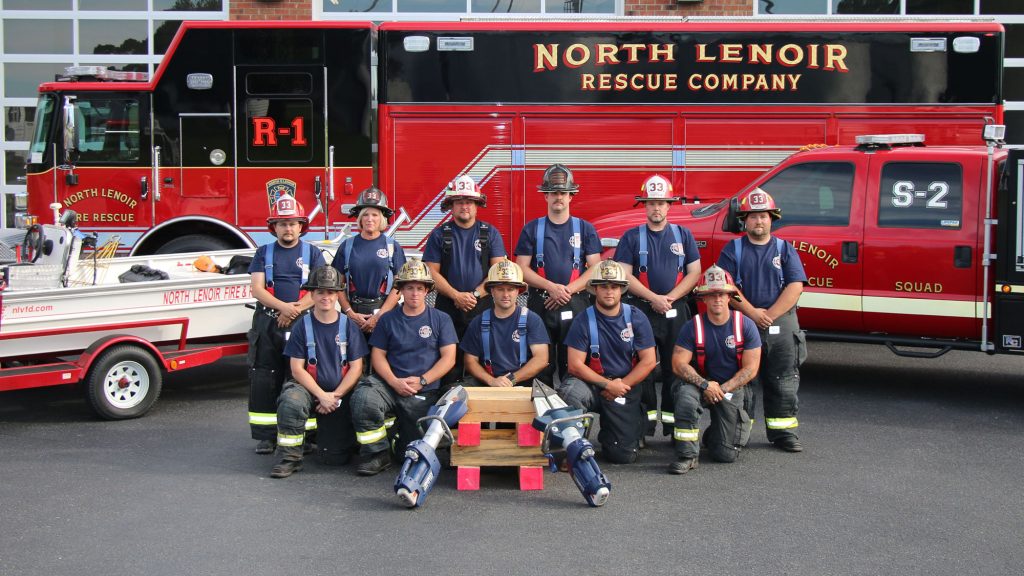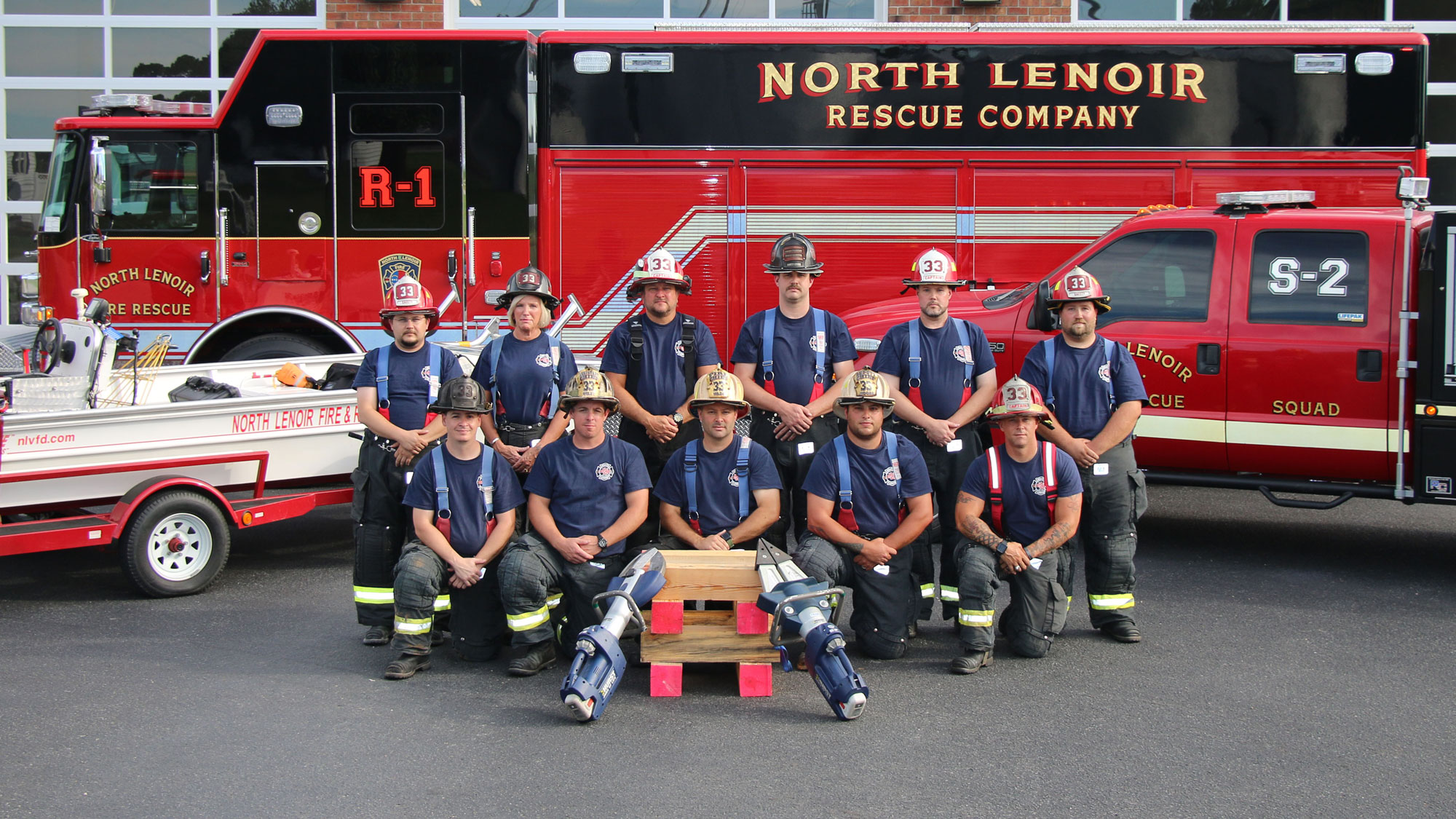 New Engine 2
The department took delivery of a 2019 Pierce Enforcer custom cab fire engine and placed it in service as Engine 2 at Station 2 in December of 2019. The new truck featured a Detroit DD13 525 horsepower engine backed by an Allison Transmission, 1500 gallon per minute pump, 750 gallon tank, and a low hose bed with almost 5,000 feet of fire hose. In addition, it was equipped with a full complement of Hurst eDraulic rescue tools, thermal imaging cameras, LED lighting, and an array of firefighting and EMS equipment.
The engine was delivered on December 19, 2019 and a push-in ceremony was held on Monday, December 30, 2019 to place the new engine in service. The ceremony was attended by Billy Youssef, Michael Langley, Nick Bishop, Brad Ward, Josh Jarman, Franklin Floyd, Danny Smith, Sr., Danny Smith, Jr., Trey Barnes, Nathan Drinkwater, Tyler Moore, Brian Wade, Ackery Harrelson, Lynn Wiley, Gray Wiley, Trey Kornegay, Ryan Beasley, Graham Stroud, Brendon Cox, and Chris Decker.
Water Rescue Improvements
A Zodiac inflatable rescue boat and trailer were added in August of 2020 to improve the department's ability to respond to water rescue incidents. The rescue boat can be rapidly deployed from the trailer or be carried by personnel to the water, providing a fast response, lightweight and safe solution for urgent and critical life-saving operations.
The new equipment was purchased with funds from a Firehouse Subs grant of more than $28,000.
High Water Vehicle
In October 2019, a 1997 model Stewart and Stevenson MTV-1083 was donated by the North Carolina Forest Service and revamped for use as a high water vehicle and brush unit. The 5-ton unit was received as federal excess property under the stipulation that it be repainted and operational within 12 months from receipt.