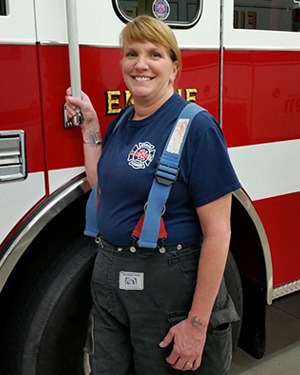 Name: Kristin McKinley
Rank: Firefighter, Board Member
Date Joined: 2010
Why did you join North Lenoir Fire & Rescue?
Once I decided that I really wanted to become a firefighter, at age 42, I was told that if I wanted to learn and train hard then North Lenoir Fire & Rescue was where I needed to be. It was one of the best decisions I have ever made.
What do you like most about North Lenoir Fire & Rescue?
That so many different personalities can work together effectively with the common goal of helping someone on the worst day of their life.
What do you like to do for fun?
I love to read, swim, work out, and spend time with my family.
What community activities are you involved in outside of the fire department?
I help out at The Kinston Community Council for the Arts whenever they need me.
What would people be surprised to know about you?
I am also an artist.
What advice would you give someone interested in joining the fire service?
It's more work than people understand. There are classes along with the physical training and running calls. It is a commitment. The fire service changes how you see the world around you. If someone wants to join they need to take it seriously and respect the knowledge that the more experienced members share with them. That knowledge is priceless.
Tell us about your family:
I have been married to my husband Paul for over 23 years and we have 2 children. My son Max is 17 years old and is a junior firefighter. My daughter Molly is 23 years old and lives and works in Raleigh. We also have an 8 year old fur baby named Crash. He loves watching TV and is afraid of cats.