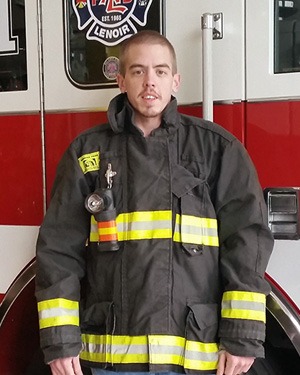 Name: Brent West
Rank: Firefighter
Date Joined: Firefighter since 2007
Why did you join North Lenoir Fire & Rescue?
Some of my friends were Jr. Fireman at the time and talked me into joining. I'm really glad they did because it has given me a chance to give back to my community.
What do you like most about North Lenoir Fire & Rescue?
The fellowship that comes with joining a fire department is like no other. Its a bond that anyone not on the fire department would not understand.
What do you like to do for fun?
Enjoying the outdoors and spending time with family and my girlfriend. 
What community activities are you involved in outside of the fire department?
Mostly all I have time for is work and spending time at the fire department.
What would people be surprised to know about you?
That I am left handed.
What advice would you give someone interested in joining the fire service?
To come down and see if it's something you would enjoy.  It can be a rewarding career for those that stick with it and learn about the different roles firefighters play on the fire ground.
Tell us about your family:
My dad is a welder and my mom works as an administrative assistant. I couldn't have asked for better parents. They have always supported me in everything I wanted to do.